Sciadiocrinus wipsorum, a Crinoid Named After WIPS
| | | |
| --- | --- | --- |
| | | |
| Basal (bottom) view | Oral (top) view | Posterior view |
Sciadiocrinus wipsorum Webster and Houck 1998, a crinoid belonging to the family Pirasocrinidae, was described from a cup found by Doug Nelson in the Minturn Formation (Pennsylvanian) at McCoy, Eagle County, Colorado. (The cup is the part of the calyx below the arms.) The species was named after WIPS (the Western Interior Paleontological Society), in honor of the members who collected some of the specimens. The species is described in Webster, G. D., and K. Houck, 1998, Middle Pennsylvanian, late Atokan-early Desmoinesian echinoderms from an intermontane basin, the Central Colorado Trough: Journal of Paleontology, v. 72, p. 1054-1072.
The phototographs above show three views of the holotype specimen, DMNH8800, which is reposited at the Denver Museum of Nature and Science. The diameter is about 3 cm.
A few other specimens have been found, such as the one shown below, found by Jordan Sawdo. However, I know of no other specimens which are as complete as the holotype specimen.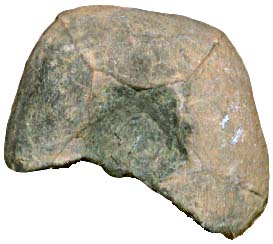 I presented my research on Sciadiocrinus wipsorum at a Symposium of the Western Interior Paleontological at the Colorado School of Mines, Golden, Colorado, as a poster presentation. The work was based on specimens I collected at McCoy. I found two partial cups of S. wipsorum and some disarticulated calyx parts that might belong to the same species.

Click on the link below to download a PDF file of the poster presentation. Please don't quote from it without checking with me first, as I may have changed some of my conclusions. For example, after examining more specimens, I am no longer confident in being able to distinguish disarticulated radial plates of Sciadiocrinus wipsorum from those of Metaffinocrinus perundatus. The file is about 647 kB. Free software for reading PDF files is available from the Adobe website.

Presentation on Sciadiocrinus wipsorum (PDF file. 647 kB.)

Wayne Itano
---

Back to Fossil home page

Back to Itano family home page
---
Last modified: January 27, 2002. Send comments to webmaster@itano.net
---