Ostrea compressirostra with impression of Volsella alabamensis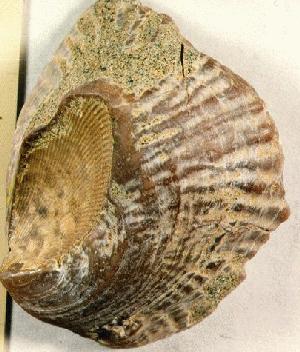 Specimen #16
Taxon: Ostrea compressirostra Say with impression of Volsella alabamensis (Aldrich)
Locality: Clifton Beach, Charles County, MD
Age: Paleocene
Rock unit: Aquia Formation
Collector: W. Itano

This is the lower valve of a juvenile oyster, Ostrea compressirostra. Note the detailed impression of another bivalve, Volsella alabamensis. Apparently, the oyster grew on top of the Volsella shell, which was not preserved. The name Volsella alabamensis is from Index Fossils of North America, by H. W. Shimer and R. R. Shrock. The original name was Modiolus alabamensis. The length is 4 cm.
---

Back to Fossil home page

Back to Itano family home page
---
Last modified: August 31, 1997. Send comments to webmaster@itano.net
---